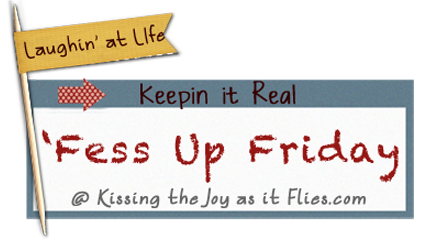 Oh boy! I have two weeks of "Fess Ups" to make so as a woman who has ridden "Thunder Mountain" at Disneyland TOO many times in my lifetime:
"Hang on to your hats and glasses, 'cause this here's the wildest ride in the wilderness!"
I can't even begin to tell you how many times I have wanted to put that in print instead of keeping it my head!! And by the way, it has been AT LEAST 15 years since I have even been in the vicinity of Disneyland and I might be overstating the excitement you will find in this blog a bit, maybe...
My oldest has started wiping off kisses, extracting himself from my hugs, and working for hours on lego Star Wars battleships. I think he's growing up. I am not gonna lie... I am looking forward to what's next but I miss my little guy.
On his 7th birthday, my young Jedi salutes me.
I always meant to send this in to Pace for their marketing campaign!
Spark People
. Sometimes it works and sometimes it doesn't. This didn't work...
My Love mocked my efforts and I swore to him it would taste better than it looked. It didn't.
If you have been following my "fess ups" you know about my most hated messy place I have been trying to conquer for months... Here is the most recent evolution. It took two weeks to go from beginning photo to the end.
We have a super small living room and this did not help increase its size, but I hope it will help increase my organization. I will keep you posted!
I took a poll on my Facebook status last week. I asked if I should spend my blow money on fake nails or on a cleaning lady. This is what I picked despite 47 responses encouraging a cleaning lady. Maybe someday when I get a bigger house, I will think a cleaning lady is a good idea. For now, my nails look like this:
I did get all ten nails done, this was just the picture that came out the best!


and I like them!
I finally caved to the sad begging of my sons to allow them to run through the sprinkler this "summer". I think it was about 65 degrees and windy. They are obviously miserable!
Finally, every year I think I can wrap my brain and brown thumbs around the idea of a garden. Some years I grow a tomato plant on the back porch. This year, my "garden" consists of three flower pots. Here's to hoping I remember to water them and that they grow!
Hopefully I won't have to confess in a few weeks that I put too many fertilizer sticks in, watered too much and drowned them or forgot to water them entirely. See now why I can't have pets!
We are due to go camping in a few hours. I am still in my pajamas, my kids need breakfast, and I am not packed yet. I am almost ready to go!
Happy Friday All!