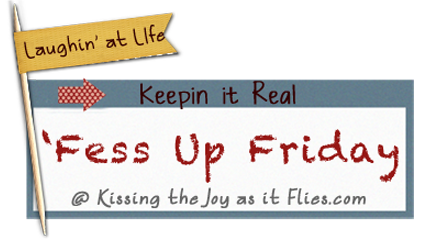 My "'Fess-Up" begins this week with one of my favorite new treats. I know, I know, I am training for 3 triathlons and I am still only 20lbs lighter than I was this time last year and I have a new "treat". These things are so good - it's crazy! As a matter of fact, I have even been considering coating them in chocolate... but not today... By the way, I do account for the calories. I am not willing to sacrifice all my hard work for a gorge on these, even if it is tempting!
We had a fairly big event this week and it has caused me to shed a tear or two. My middle "little" has to get glasses. Since birth he has had this charisma and confidence that draws people to him. He has a charming personality and a grin that can make any bad day vanish like fog in the sunshine. His personality is so much like mine that instead of clashing, we mesh like peanut butter and chocolate (mmmm.... still thinking about those pretzels...) Anyway, I was pretty sure he was having trouble seeing far away because he has always sat too close to the tv when watching cartoons or playing video games, but he never seemed to have any trouble in school. We finally had his eyes checked, he's near-sighted, like me and his Dad. I didn't get glasses til I was 22 and realized I couldn't pitch a softball over the plate anymore because I couldn't see it. My Love, however, has had glasses since he was a small guy. He was pretty upset about him having to get glasses too after all the torture he endured as a kid with glasses.
Here is the sweet before picture:
Now on to lighter things... Camping in the rain... the kids were soaked, every day. I shoved aside the inner panic of everyone "catching their death" of cold from being wet and just let them be little boys in the rain. After all, if you want to camp in North Idaho, you have to accept that if you get a completely sunny perfect weekend, it is a fluke. Or the month of August. Or the weekend you stay home to do yard work. Here are some of the happy faces doing what they love to do while camping...
And finally, apparently I am a little obsessed with getting a perfect Father's Day photo... this was photo #5 and below, photo #7. That was when I gave up. The t-shirts say, "I dig my Dad", which was also not possible to capture in the picture...
Also, I could tell my Love was about ready to steal my camera and hide it under a stump! Oh well. I am again reminded I do not want automatons that smile on cue, even if it would be convenient occasionally.