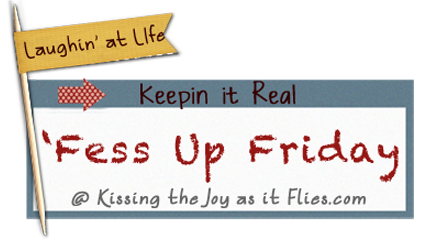 So, I missed the official "Fess - Up" because I missed Friday on my computer almost entirely! I am starting to think I need to keep this post every week in draft form, keep adding to it every day and THEN post it on Friday. I am not sure I am entirely organized enough to do it... but I might try it at least once.
So, here it is...
- I have cut out white flour and sugar and kept with it. When I weighed on Friday morning I lost 4lbs. I celebrated with actually eating pizza with my family that night... at least it was the thin crust veggie pizza.
- I spent half of this week wishing I could run away from home.
- I spent the other half wishing I didn't have to go somewhere.
- I discovered the little boy definition of BFF this week "Big Fat Fart". I am a little embarrassed to say that I laughed pretty hard the first time they told me and I laugh a little inside every time I think about it... which seems a little more often than what "normal" should be. Maybe.
- My version of "Going Green" - 2 green water bottles.
- I finally threw away my beloved orange water bottle I had for 2 years. It was my constant companion at the gym EVERY day while I trained for my triathlon. When the kids were good at the play care, they wanted to give me their sticker reward... note that I have 3 kids in the play care and I trained 4 days a week for 2 months and 3 days a week for 2 months... if you count the stickers you will see that my kids are so comfortable there... it's like home to them if you know what I mean...
(To be fair, some stickers fell off and some are on the lid, and all the kids weren't with me ALL the time)
- I actually organized my kitchen counters this week - and - other than a few dirty dishes, it has STAYED that way!!! Yeah, I am usually good at the 'one hit wonder' then tank after all the applause... just sayin'
- It used to look like this:
-- the files are there, there is stuff in them, not all of them are labeled, the stuff is probably not all critical... and I LOVE my bug even though he takes up space on my counter and his battery is dead.
- I love when my kids are themselves and remind me to be myself - even at the expense or comfort of others who expect them to be tiny automatons who follow the rules perfectly and never make a mess... God spoke to me of messes this week and Endurance... I will blog on that soon.
I think that's good enough for this week, especially since Friday has come and gone. Next week there will be more but I won't be around to post so I'll catch ya in a couple of weeks! I am sure there will be lots to share!