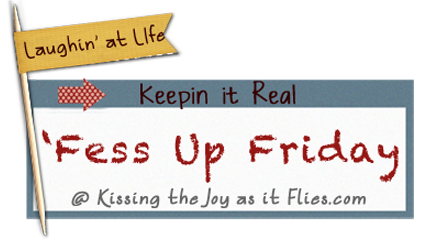 Wow, this week again gave me more "opportunities" to "Fess Up" than one can even describe... but I will share a few...
1) I learned how to "teeth fart", apparently my oldest son is a real pro according to his friends. You are supposed to put your teeth together and blow out one side of your mouth, try it... maybe you can be a pro too!
2) I still haven't purged the Food and Wine magazines. I need to, I know.
3) My mother-in-law gave me this lovely gift tulip and I loved it, it made me feel like spring. I kept looking at it reminding myself I, too, am beautiful like this flower... I kept looking at it, every day. Asking God to remind me of my beauty and His beauty within me...
4) By the end of the week, this is how I looked. Really.
5) I yelled over spilled milk. Again. Seriously, when will I just not care if the boys dump an 8oz glass of milk all over themselves, the floor and their shoes? By the way, I did clarify that I was not angry with him, I was just tired of cleaning up messes... he seemed to understand.
6) I found it VERY amusing that one of the little boys I was watching decided to use the plastic basketball hoop as a jousting stick in the basement to combat my sons who were using light sabers. I suggested he might maim someone by accident, but secretly I was impressed!
7) I am deliberately choosing to stay off of white flour and white sugar. It consistently has blocked my ability to lose weight. Honestly, I would prefer to dive head first into a pint of Ben and Jerry's New York Super Fudge Chunk and not come out until it was gone... sigh.
8) I have listened to a lot of really great people this week talking about their trials, challenges, dreams lost, struggles with hopelessness, and lack of motivation to make necessary changes. God gave me some very encouraging words and prayers for them. I talked to them all about living with a sense of expectation - looking forward with enthusiasm to what God is going to do next - I don't do that enough. Maybe God had me say it at least 5 times this week to drive His point home to me. I bet He did.
9) I stood outside in two parking lots in one night talking with the same friend for 2.5 hours. I really need some girl time if I have to resort to that... what do you think? ;)
10) I got my new Hagadone directory this week. Guess what I did with it? My sincere apologies for all those people who paid money to put their ads in it.