I had most of my blog ready to go last week, in my head...
So, I have combined it with this weeks "Fess Ups"
One more triathlon and Lord willing, I will be on a somewhat normal schedule again.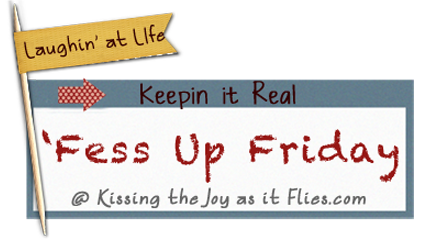 My Grandmother's 90th birthday was August 6. We traveled to Seattle to celebrate with her, my Grandfather, my folks, my sister and her family and a whole host of other relatives. That will be a blog all to itself. But, in keeping with the 'Fess Up theme, I shall narrow it down to one amusing event that sums it all up for now.
My Dad is the Chaplain for the Tukwila Fire and Police Departments. We were looking for some fun ways for the cousins to enjoy being together without spending too much time all together at my parents one bedroom one bath home. Dad hatched the great plan to take all his seven grandsons to the fire house to look at the trucks. It was a brilliant plan.
This is Grandpa instructing his grandsons about the importance of not touching anything you aren't supposed to, listening to the firemen, and behaving nicely.
All seven, 11 and under going in...


And he discovers a button he can push...
Seriously, they let him behind the wheel?! They let him sit in the Captain's seat first, but that wasn't near as impressive as the driver's seat. The Captain may be in charge, but the DRIVER gets to DRIVE THE BIG RED TRUCK!!
LIttle brother gets to drive, Biggest brother thinks he should get to push it too. That did not go over well.
My oldest behind the wheel... growing up.
My sister's #3 gets a turn. They all did. So fun to drive, even when you are small.
Okay, this is dangerous. They locked the doors. All of them with a quick push of a button. Fireman had to use door code to get them out. Yeah, these two together = double trouble! But aren't they cute?!
DON'T TOUCH ANYTHING!




Okay, this part, funny and a tad embarrassing. Not listening, endless questions about crashes, tools, can I lay down on the bed, can I drive this one? Where is the siren? Yes, he could barely get a word in...
After the #54 sign was removed and replaced, we attempted a group shot.
Do you see the Karate Kid? He has NOT seen the movie. I have NO idea where he got that. I certainly didn't teach it to him. Maybe his dad...
Kids from Hawaii know the "shaka", kids from Idaho try to figure it out. LOL.
I have to do LOTS of laundry. Any mom with little kids does. It's a fact of life. But do you have to do Darth Vader's laundry? I have no idea how he managed to sneak it in, but I assure you, I will recommend he does his own...
And finally, earlier this week I gave the boys the choice between a trip to the beach to play in the water or to ride their bikes at the local BMX track. They picked the BMX. My youngest was not amused. But he and I will hopefully get a beach day or two in after the big boys go back to school. Hopefully.
My oldest is getting his coordination and his strength to power through the bumps, hills, curves standing on his pedals and focused on speed. He LOVES this. I think we might have to start looking into a real BMX bike and helmet for him.
Meanwhile my youngest is amusing himself with playing with the cords in the dead video camera bag. I had no idea that if I charged it and left it in the bag for two months it would be dead when I wanted it. Such a bummer!
He eventually decided to play with his "vehicle of choice" after some convincing that if he plugged the wrong something into a random hole he might break something important. He had an opinion on that. As he does on everything.
He rode and rode and rode, hiking up the huge hill over and over again to start at the very top.
My second son is not quite six yet and very cautious. He is more aggressive but he is way more precise and careful in how he tries new things. He sits and watches every bump come and go, sometimes using his brakes.
The trips we made to the BMX this week (yes, we went twice) were very revealing again of how different my first two are. They are 14 months apart so I have often treated them like twins. An injustice to both of them. As I watched them tackle the same obstacle so differently over and over, I felt a nudge from the Holy Spirit that I need to be VERY diligent about how I connect with them from now on. Focusing on their differences, their uniqueness and their individual personalities honors who they are each becoming.
I then had a moment of raw panic when I shifted from my paparazzi mindset to find my youngest son. He was no where to be found. I called his name and started looking frantically for him. I yelled to the older boys to help me find him. About thirty long seconds go by when my oldest yells, "Mom! He's on the track!"
Sure enough my clever little adventurer who is too small to ride his bike on the track (it doesn't work well with training wheels) decided he was sick of bouncing around on a rubber ball. He climbed the giant hill and RAN the entire track, loving every minute of it! Look at the concentration on his little face!
Ta-da! He finished! I cheered and yelled like he had just finished a real race! Again I found myself blown away by the tenacity and ingenuity of my fellas. How could I miss that he wants to be just like his brothers and is willing to do whatever he can, within his skill set to accomplish that.
I am humbled by them.
I am exhausted by them.
This has also been a tough week of consequences, choices and Mommy yelling in frustration. I am trying to teach them honor, respect, kindness, and self-control. And yet, over and over again, I blow it. I repent for dishonoring, disrespecting, unkindness, and my lack of self-control. We agree to try again. This week has been a little harder with Daddy out of town and Mommy taking things personal (which I usually don't) in her weariness. I know I will win the war, but this week, I have lost several battles (with my own temper). Consistency is my daily challenge. I am learning another layer of endurance. I will keep up the hard work, because it is really GOOD work, even if it doesn't feel like it will ever pay off. Someday, I pray it will.
Because I have a choice to make:
I can be either one of these guys, depending on the moment...